In the Spotlight this week is one of our newest members - Harrietfan!
How did you get interested in LHOTP?
My mom started to read the books to me when I was in Elementary School. My cousins had the paper dolls and picture books.


Which came first for you: the books or the TV series?
Books


If youíve read any of the books, which one do you like best?
Little Town on The Prairie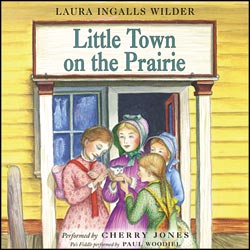 How often do you watch the TV series?
I watch A bit of an episode almost every day, well lately. I did that about 10 months ago too.


Have you watched other productions of LH? If so, did you like them?
I saw some of one in the 90ís or early 00ís.


Did you get to see the LHOTP musical with Melissa Gilbert?
No


Do you have a favorite character?
Harriet now, and when I was young Laura.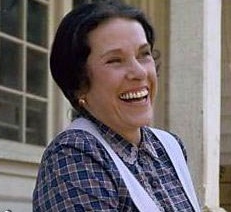 Do you believe that the moral lessons that Little House taught helped to make you a better person?
It has reminded me of how I should live.


Is there an episode that stands out in your mind as a favorite?
There are so many favorites, but Town Party, Country Party does because of the Olga subplot.



Do any of the episodes move you to tears? If so, why?
So many make me cry. The Last Summer makes me cry because I have many retired friends. Whenever anything sad at all happens I cry, mostly when characters cry.


Who do you most relate to?
Olga, because of my disability where one leg is shorter than the other.


Where were you born?
The Midwest


How many states/places have you lived in?
One state, two towns, well three if you count college.


How many people are in your family?
4


Have you ever been married? / Are you married?
No


Do you have children?
No


Do any others in your family share your affection for Little House on the Prairie and Laura Ingalls Wilderís work?
My mom likes it.


Have you met any of the cast members?
No, but if I had known sooner I could have gone to meet Alison A. on the 24th.


Do you own anything Little House related?
I used to have the books and paper dolls.


Have you met any of the board members?
No.


How long have you been a member on the LH board?
A little over a week.


What are some things that you enjoy doing to relax?
Go online, write and read,sing.


What season do you like best? Spring, summer, autumn or winter?
winter


What season were you born in?
Fall.


What is your favorite holiday?
Christmas


What has been your biggest challenge?
College so far.


What are some of your best memories?
Traveling with my family, going places with fiends and being with them, Political work, Putting on historical plays for family w/ my brother and cousins, high school musicals.


What is one of the things you like best about our LH board?
The nice people and discussions about episodes and characters.


Were you shy or outgoing as a child?
Shy around peers, but by middle school I liked to hang out with adults.


What did you want to be when you were growing up, and did that pan out?
I wanted to be many things, by my senior year in high school or maybe Junior year I wanted to be a social worker. Iím studying to get my degree for that now.


What was your first pet?
A cat. Sheís a family pet and still living. Her name is Patches


Did you go to your prom? If so, what was the theme & style of the time?
I did go with friends and the style has not changed much. I donít remember the theme.



~~~~~~~~~~~~~~~~~~~~~~~~~~~~~~~~~~~~~~~~~~~~~~~~
I love the idea of historical plays for your family, Harrietfan - I LOVE history!