Mr. Edward's Favorite - The History of "Old Dan Tucker"
Enlarge this image
Reduce this image
Click to see fullsize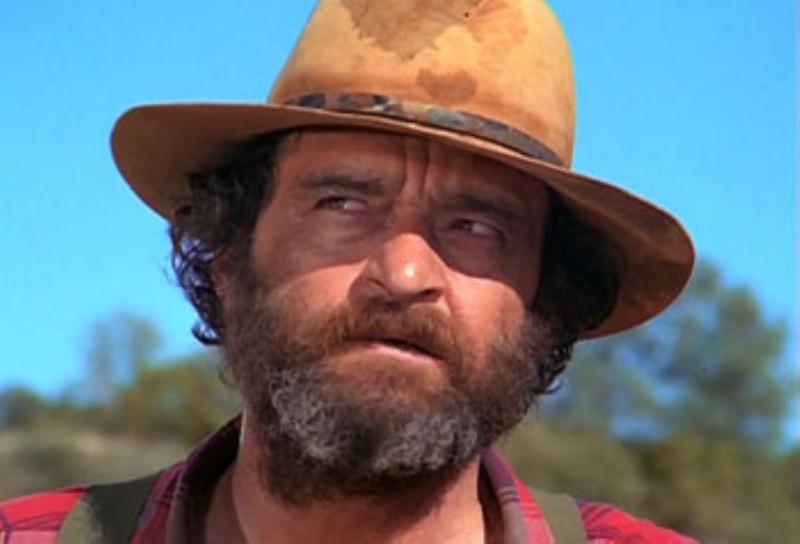 Godfrey Tucker was one of eight children of Robert Tucker and Frances Coleman of Virginia. The next to the youngest of the Tucker siblings was Daniel, who is thought to have been the inspiration for the folk song, "Old Dan Tucker."
Daniel Tucker was born in Amelia, Virginia in 1740. According to a 1965 article published in Georgia Magazine, he came to Elbert County in 1798, after having served as a soldier in the American Revolution, and purchased land from John Heard (another ancestor) for $1000; a tract of land of the "Cook's Ferry Tract" on the Savannah River, with a ferry and "all the appertenunces thereof and thereabout." The Georgia Legislature authorized him to keep a public ferry in 1817, from his own land to that of John Spear on the opposite shore. It operated as Tucker's Ferry until the automobile made it obsolete.
Dan Tucker's land was rich farmland and he became a planter, as well as a minister. His legend says that he had a deep sense of responsibility to the slaves and spent his time praying with them and instructing them in religious matters. It is said that he was esteemed by his fellow planters as well as the slaves.
The song itself was published in 1843 by Daniel Decatur Emmett (writer of the song "Dixie") who also claimed to have written it. Dan Emmett performed in blackface in minstrel shows in the 1840's. Some history of the song says that it was written by slaves to whom Rev. Tucker ministered.
Daniel Tucker lived in Elbert County until his death in 1818 at age 78. His grave is on the site of his home, Old Point. There is an historical marker near his home, and he is listed on the Revolutionary War Memorial in Elbert County.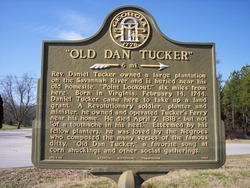 Old Dan Tucker was a fine old man
He washed his face in the frying pan
He combed his hair with a wagon wheel
And died of the toothache in his heel
Chorus:
Get out the way for old Dan Tucker
He's too late to git his supper
Supper's over and dishes washed
Nothing left but a piece of squash
Old Dan Tucker went to town
Riding a mule and leading a hound
Hound barked and mule jumped
Threw old Dan right over a stump
Chorus
I come to town the other night
I hear the noise and saw the fight
The watchman was arunning around
Crying "Old Dan Tucker's come to Town"
Old Dan he went down to the mill
To get some meal to put in the swill
The miller swore by the point of his knife
He never see'd such a man in his life
Tucker is a nice old man
He used to ride our darby ram
He sent him whizzin' down the hill
If he hadn't got up, he'd lay there still
Chorus
Old Dan begun in early life
To play the bango and the fife
He play the children all to sleep
And then into his bunk he'd creep
Chorus
_________________
David