John Carter, who played Ted McGinnis in Blizzard has passed away. You may remember him as the father who died looking for his son in the snow storm.
He was 87 years old.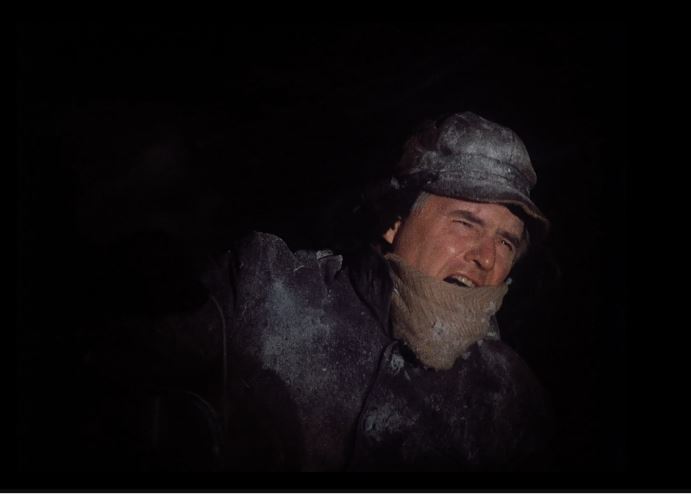 The New York Times

June 4, 2015
An actor whose diversity in his profession was filled with numerous roles on stage and screen passed away from pneumonia on May 23 at the young age of 87. John Carter was born in Center Ridge, Arkansas. He and his family moved to Missouri where he grew up and attended college. After graduation he moved to New York to pursue his dream of becoming an actor and married Barbara Williams, an actor as well. John started out as a chorus boy and moved quickly up to appearing in "No Strings, "110 in the Shade" Take Me Along" and many other roles. John had a beautiful voice and brought to each character a defined presence. After divorcing Barara he moved to Los Angeles and became very busy in the world of television and film. He became a member of Theater West where he would meet his future wife Kendall Fewel a match made in heaven. While at Theater West he appeared in "The Price" and began directing. He directed Betty Garrett in her one woman show which was a jewel of a show. His roles in television at this time were "Winds of War" "Roots" and "Dallas" to name a few. Some of his films included the "Hoax", "Badlands" and "Joe Kidd". After marrying Kendall they moved to New York where John continued and thrived in the theater. He appeared in three Edward Albee plays Off Broadway and Edward Albee's On Broadway revival of "A Delicate Balance" featuring Rosemary Harris, George Grizzard and Elaine Stritch which won a Tony. Other Broadway roles were in "A Streetcar Named Desire" and "Festin". John was unique and touched the lives of all those who knew him. Handsome, talented, giving, honest in every sense and such a gentle man. John is predeceased by his brother Rogers and his son Dan. He is survived by his brother Conlan, half-brother, Jeff, three beautiful godchildren Kevin, Emily and Michael and his beloved Kendall. "This world was never meant for one as beautiful as you".
Born: 11/26/1927, Center Ridge, Arkansas, U.S.A.
Died: 5/23/2015, New York City, New York, U.S.A.
John Carter's westerns – actor:
The Big Valley (TV) – 1967 (Floyd Vaughn)
Gunsmoke (TV) – 1967, 1973 (Doyle, Father Walsh)
Bonanza (TV) – 1968 (Wayne Purcell)
Cimmaron Strip (TV) – 1968 (Carter)
Death Valley Days (TV) – 1968, 1969 (Joel Flagg, Stephen Austin)
Monte Walsh – 1970 (farmer)
Joe Kidd – 1972 (judge)
Sara – 1976 (Henchard)
Little House on the Prairie (TV) – 1977 (Ted McGinnis)